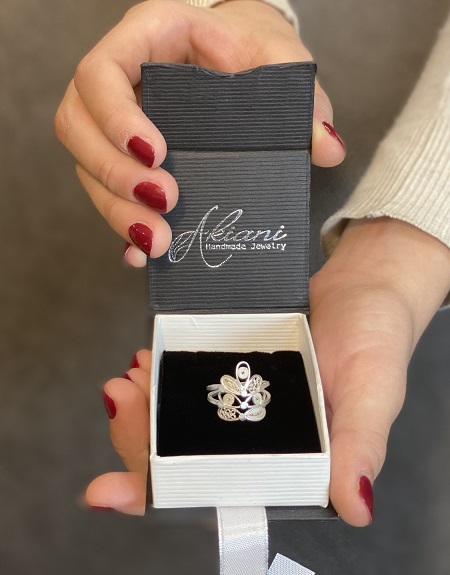 How to take care of your Sterling Silver Jewelry
Sterling silver is a precious metal that can last for generations. If you take care of your sterling silver jewelry, you can pass on your pieces to your loved ones. Below are some recommendations that will help you keep your jewelry beautiful and shiny. Maybe you already know some of them, but I'm sure others will be new for you:
Store your jewelry to prevent it from tarnishing.
Sterling silver jewelry changes colour for several reasons, including exposure to air, sulphur, humidity, sweat, cosmetics, household bleach and other harsh chemicals. If you want to prevent your jewelry from tarnishing, store it in the original packaging because it is designed to protect it from light and moisture. But, if you have your own jewelry box, you can store each piece separately in a cellophane bag. Besides properly storing your pieces, the cleaning process is also vital to take care of your sterling silver jewelry.
Some tips for cleaning your sterling silver jewelry at home
Cleaning your jewelry at home is a simple process that does not take much time. Here are some home tips that can be useful to take care of your sterling silver jewelry:

The most known process to clean your jewelry at home is the use of baking soda:
Take a container with some water and a generous amount of baking soda to create a semi-solid paste.
Dip the jewelry in it and brush it with a toothbrush.
Wash the jewelry with liquid soap, rinse with plenty of water and dry with a hairdryer.
Also, the use of aluminum foil is very popular to clean your jewelry at home.
Line the inside of a container with aluminum foil. Make sure the shiny side of the foil is exposed.
Put boiling water and salt.
Immerse the jewelry there for 5 minutes, remove it and then clean it with liquid soap.
Rinse with abundant water.
Dry with a hairdryer.

Nonetheless, if the jewelry is very tarnished, you can combine both methods. First, use the baking soda process and then the aluminum process.
At Akiani Handmade Jewelry, we know how much our customers appreciate our pieces. Therefore, we provide them with a free cleaning and polishing service. It is a differential value that few companies offer free of charge. However, If you are one of our clients and have not yet used this service, please get in touch with us at https://akianihandmadejewelry.com/contact-us/